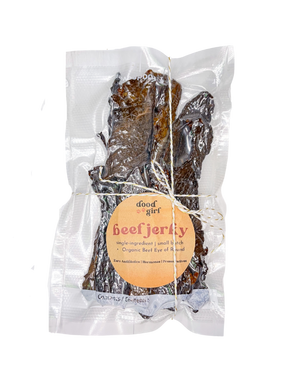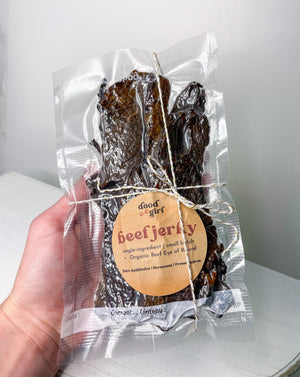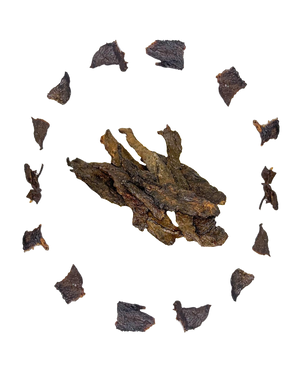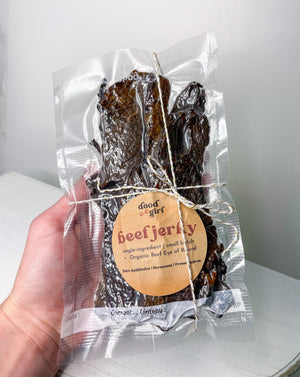 Treat your pup to our drool-worthy jerky, made with Organic grass-fed beef.
These single-ingredient snacks are high in protein, low in fat, and a great source of vitamins like B12, iron, zinc, and folate (B9). Each order is made in small batches, and dehydrated to perfection for the ultimate crunch experience!
Ingredients: 100% Organic Grass-Fed Beef (eye of round) -- that's it, no fillers or fake stuff here.
3oz. dried weight ~ approx. 12oz. raw weight
Airsealed to preserve freshness
Shelf life ~ 2 mo. if refrigerated in an airtight container (2 wks on countertop)
No antibiotics, hormones or preservatives
Feeding Instructions:
Break into pieces, offer when your bestie is a being a good pup. Start with 1-2 pieces per day to ensure your dog has no allergies or difficulty swallowing. 
For small breeds, feed up to 1-3 slices per day. For large breeds, feed up to 3-4 slices per day. 
Guaranteed Analysis:
Crude protein (min) ~ 70%
Crude fat (min) ~ 7%
Crude fiber (max) ~ 3%
Moisture (max) ~ 20%