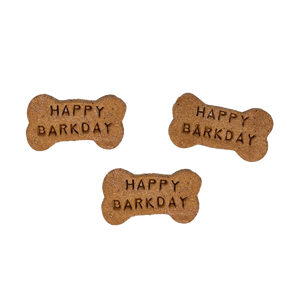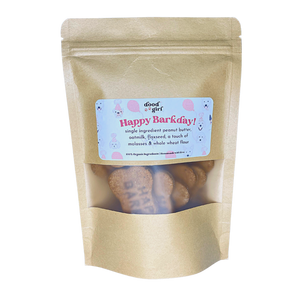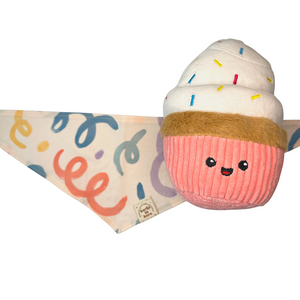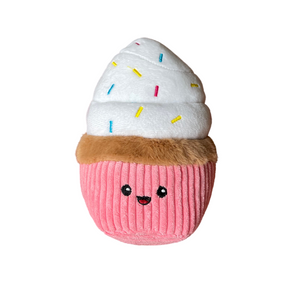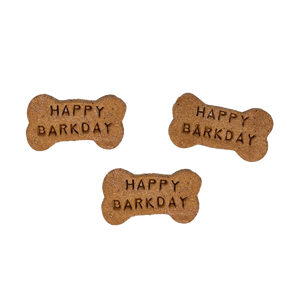 ✫ 𝗚𝗼 𝗽𝘂𝗽𝗽𝘆, 𝗶𝘁'𝘀 𝘆𝗼𝘂𝗿 𝗯𝗶𝗿𝘁𝗵𝗱𝗮𝘆... 𝘄𝗲 𝗴𝗼𝗻𝗻𝗮 𝗣𝗔𝗪𝗧𝗬 𝗹𝗶𝗸𝗲 𝗶𝘁'𝘀 𝘆𝗼𝘂𝗿 𝗯𝗶𝗿𝘁𝗵𝗱𝗮𝘆 ✫
We heard your four-legged friend has a Birthday coming up! Our 'Barkday Bundle' has everything you need for your fur baby's big celebration. Surprise your own pup or a pup parent you know, and they'll be drooling over this sweet gift.

Inside you'll find 4 of our top-rated, birthday faves bundled together into one uniquely designed box at a savings of up to 40%. All items were handpicked by pet parents
for
pet parents, so you can be sure your dog is getting all the good stuff.
5oz. bag of 'Happy Barkday' bones in our OG flavor
5oz. bag of

 Birthday-themed treats in our OG or Apple Pie flavor

Celebratory 'Pawty Popper' bandana from Barks in Boro Co.
Corduroy Cupcake Squeaker Toy 
Bandana Sizing:  
S (up to 15 in), L/XL (up to 20 in)
Barks in Boro's bandanas are made of single layered fabric with double hems, making them super lightweight and comfy for your pets during any season
To get the best fit, make sure to measure your pet's neck size. If you are unsure of sizing and your pets have that extra floof, sizing up would be recommended :)
Hugsmart Cupcake Dimensions: 8" x 5.5" x 5.5"