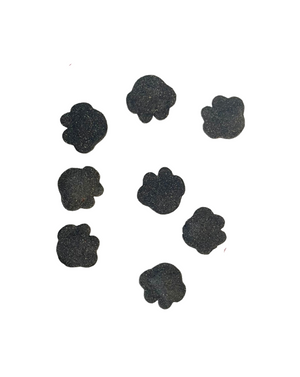 Will your pup's name be on the naughty or nice list this year?  Guess what... we don't judge... or care :) Even if your pup has been a lil' sassy this year, we believe they still deserve a healthy snack to munch on! 
Featured in our new, Chompin' Charcoal flavor, your pup will get the beneficial nutrients they need & the deliciousness they crave with our 'Lil' Lumps of Coal'.  Ingredients include:  unsweetened applesauce, activated charcoal powder, flaxseed, single-ingredient peanut butter and whole wheat flour.  Each 3oz. bag contains 15-20 lumps of coal. 
Health Benefits:  Activated charcoal is easy on your pup's stomach, serving as a natural way to reduce bloating and gas. The 'activation' process is a bit complex yet, incredible! To simply put it, 'activation' increases the surface area by creating cracks that encourage toxins to bind to the charcoal, resulting in the absorption of toxins which keeps your pup safe from any poisons. Activated charcoal also works as a natural breath freshener & teeth whitener as it binds and metabolizes stains on your dog's teeth.