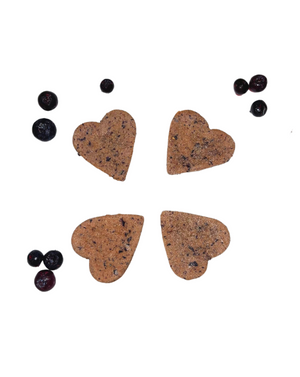 Imagine a crisp blueberry cobbler coming right out of the oven...
Well, now your pup can enjoy the same deliciousness, with some added benefits!


Our 'Blueberry Cobbler' Treats have only  6 ingredients: fresh wild blueberries, unsweetened applesauce, oats, flaxseed, coconut oil & whole wheat flour. Each 5 oz. bag contains approximately 15 handcrafted heart shaped treats.
Not only are they vibrant and tasty, wild blueberries are also incredibly beneficial for dogs. They are bursting with Vitamin C, fiber and antioxidants, which help fight *free radicals.
Crafted with all Organic, human-grade, USA-sourced ingredients

Baked & dehydrated 

for a light, crunchy texture - perfect for when chewing is challenging
*Free radicals are responsible for cellular/molecular damage in dogs & humans.